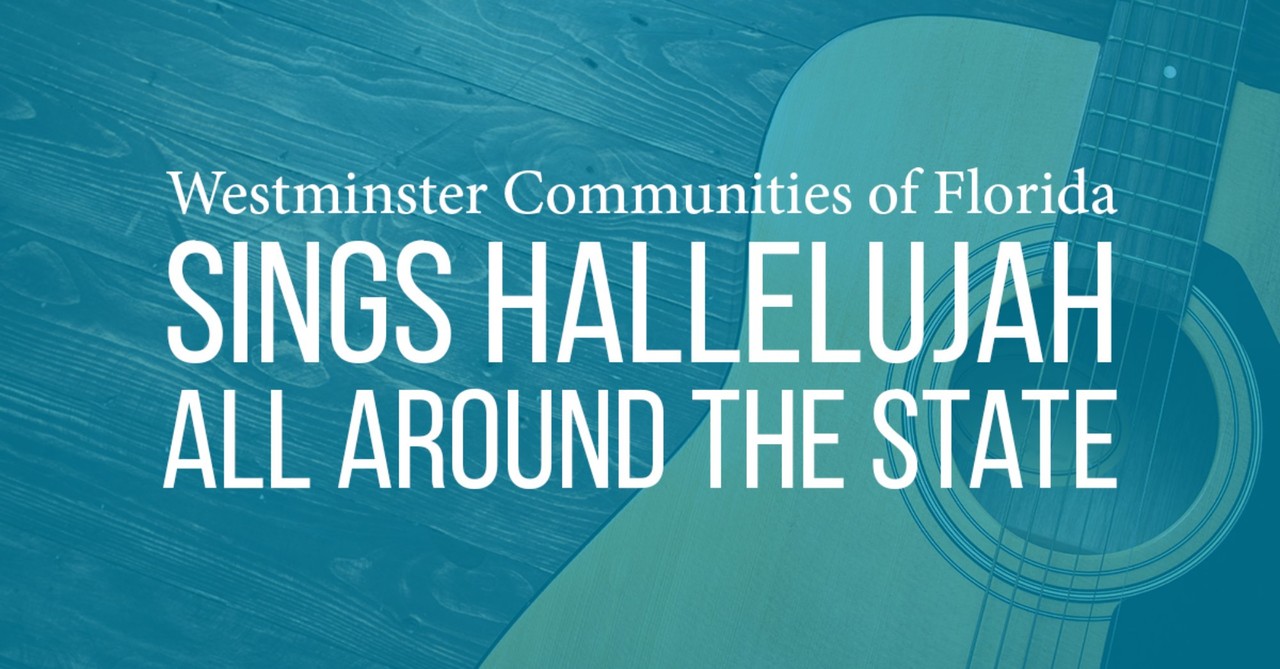 Westminster Sings "Hallelujah"
9 Things I Learned About Musical Performances, Carrying Cables and Holding A Mic
Friday, August 4, 2017
Earlier this year, our creative team wrapped up production for "Westminster Communities of Florida Sings Hallelujah." We traveled across the state to all nine active living communities to film residents and employees singing Leonard Cohen's "Hallelujah." This was such a wonderful project — we had a lot of fun on the way, and the final product will give you the chills — but we learned a lot along the way.
If you want to embark on a project like this, here's what you should know:
Be prepared to get out of your comfort zone. One of the great things I enjoy about working at Westminster Communities of Florida is that you never know what types of engaging projects you will encounter. I would have never imagined that I would be traveling the state and standing on the rooftops of buildings with a video camera as I filmed our residents singing.

Build a plan. A production of this size will involve hundreds of residents and employees. That calls for having a really good plan! The residents were excited to get started, and so were we. Our senior artist brought his guitar to work to lay the foundation track and choose the musical key for the production. Our social media manager immediately began to evaluate our department's equipment for our video and audio recording requirements. Meanwhile, I began to build a plan and chart our course for filming across the state.

Learn how to get people enthusiastic about participating. Sure, telling a resident that you want to record them singing feels... odd at first. No, it is not the "Hallelujah" chorus from Handel's "Messiah." Or, Yes, this is for Facebook, a social media platform. We used the premiere of our video to encourage residents to Like and follow us on Facebook — and now, hundreds of residents have done just that. They were excited to share their performance with friends.

Scale your production to what's needed and within your budget, without compromising quality. We had to learn to streamline our production process: We shot all the video and recorded all the audio ourselves. That meant that we carried three cameras and tripods, and learned how to set up quickly to begin filming. We learned to make do with the output from sound systems in auditoriums, and even how to get high-quality ambient audio. Then, we did all the editing ourselves. If you have the in-house talent, then the tradeoff is really between getting the result you want and getting it done fast — I always say, choose the former.

Stretch yourself! This isn't something you do every day. But you'll learn what you need to know pretty quick. When this project began, I knew that we were not a video production agency. However, we all knew we would contribute something: camera work, audio recording, musical performance. It turns out I can't sing! But, I can operate a camera.

Expect the unexpected! Be prepared to film on a boat or from a rooftop -- or in a rainstorm! Not every production will have optimal conditions. In order to get B-roll footage of Westminster Woods on Julington Creek, we ended up on the river in the community's boat, holding our cameras tightly underneath ominous storm clouds. At Westminster Towers & Shores, I leaned out a 10th-floor window to get a better shot. At Westminster Manor, we learned that drones are loud -- and can only operate in winds up to 10 miles per hour.

Bring your own equipment. Sure, this sounds elementary, but we quickly learned that it was unreasonable to expect every venue to have the necessary cables. Make sure to bring your own cables, batteries, power supplies and more. It always helps to prepare beyond your expectations.

Find the meaning for you, your team and the residents in the project. "Westminster Sings Hallelujah" meant a lot to all of us! We have received such great feedback about how the series of videos allowed them to see the spirit of Westminster Communities of Florida, through shared experience and the camaraderie of rehearsal and performance, and to enjoy their communities even more. The residents also now have something to share with their friends and family.

Enjoy the fun! At the most surreal moments, I found myself wondering, "Am I really getting paid to do this?" Visiting our nine lovely active living communities, meeting so many wonderful people and seeing these awaiting performances through a variety of contexts and creative ideas, really gave me goosebumps. When we saw the final videos coming together, it made everything worthwhile.
I am so delighted with how this project turned out. Enjoy the video for yourself! And be sure to tell me how these tips might help your own project.